FilePathFinder Pro & Light versions
Using the FilePathFinder you can be sure that you have complete control over external links into your scenes.

Asset tracking features include support for XREF files and easy linking with external files.
Using the FilePathFinder (and Batch Render&Relink), you can search for missing assets and relink external files.
In addition, files that are linked to selected objects are displayed in Interactive Mode, and bitmap textures can be toggled and placed within the Material Editor.
Also with this tool, you can easily make an archive a 3ds Max scene.
Note that FilePathFinder supports the highest number of asset types of any plug-in.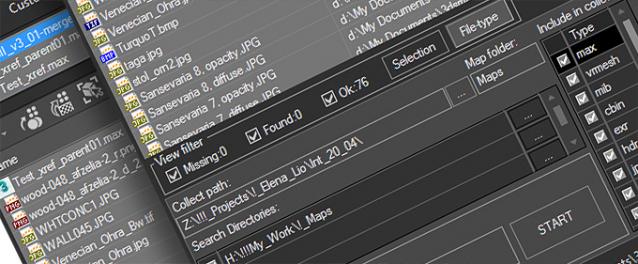 For example, FilePathFinder is the only plugin that can display and relink Vray Lens effects, even with missing bitmaps. In addition, scenes may be archived and easily sent to render services such as RebusFarm.
The Batch Render&Relink tool helps manage your asset files into the 3D model and material libraries in Batch Mode.
BR&R is capable of rendering thumbnails for 3D models, materials, and IES photometric files.
Batch Mode makes for an easy way to gather and compile many assets at once.
---
Adds support to IES interactive rendering
Fixes an issue with removing atmospherics on rendering previews
Fixes an issue with isolated nodes when rendering previews
Fixes an issue when monitor screen DPI uses a scale of more than 100%
Fixes an issue with rendering some scenes with Corona 6
Adds support to ArchVision RPC. Display native preview.
Adds support to ".MC" files in Point Cache modifier
Adds an ability to rendering previews using Corona Frame Buffer. [Batch Render&Relink]
Drops support to 3ds Max 2013
The methods of generation preview for Substance and additional 3ds Max image formats (such as vrimg and etc.) was rewritten.
Move plugin to directory and category "Kstudio"
Fixes a bug with relinking scenes that contain IES files using Batch Render&Relink tool[Batch Render&Relink]
Fixes an issue with correct display the maximized plugin window on some monitors
Fixes an issue with the ability to refresh the listview using the F5 key
Fixes some minor issues with the interface
Fixes a bug with Asset Management scenes which contains Containers
Fixes other minor issues and performance improvements
See the full list of history changes on this page - Update History.
Features:
Asset Tracking
Search for missing assets
Relink external files
Collect external files
Archiving a 3ds Max scene
Ability to exclude files from collecting by type of file
Rename the links by mask
Removing links from a scene
Ability to collect Asset files via clipboard and drag&drop method
PRO version includes the "Batch Render&Relink" tool for organizing Asset files for 3d Models and Materials Libraries in the batch mode
Support to xRef files.
Support to almost all known renderers and plug-ins.
Selecting objects, work with materials and textures
Selecting the objects by their links to files
Displays in interactive mode a list of files linked to selected objects
Place Materials and BitmapTextures into the Material Editor
Show/Hide bitmap in viewport
Opening the files into the external application.
Misc Features
Auto-check for updates
Displays thumbnails for Bitmaps, 3d models, Proxy, IES, Material Libraries and other file-types (include formats HDR, EXR, PSD and other)
Various methods of display files in list: by type of files, linked to selected objects, by status, by mask of name
The "Batch Render&Relink" tool for rendering the thumbnails for 3ds Max scenes, Material Libraries and IES files
Collect the preview thumbnails with source files
Unostentatious and "Transparent" the demo-version
User-Friendly interface
Additional Info:
Commercial script.
Installation and generation of id-file video
Note: Please use latest updates for your version of 3ds max
3ds Max Updates & Service Packs
Demo-version Limits:
The Demo version allows to work only with limited number of files.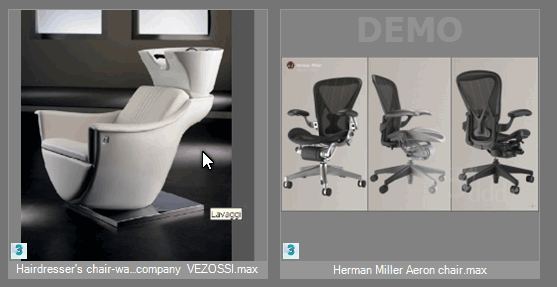 Version Requirement:
3ds Max 2014 and above