Project Manager
There is most unique from them – the ability to assign custom previews to materials, associate files with materials, and create a gallery of files associated with any type of assets including materials.
You can also write a description for material and, of course, add materials to favorites.
Adds support to mapping source for V-Ray PBR materials
Adds an ability to export files to vrscene (menu "Export to:" => vrscene )
Adds an ability to replace a selected file with a model from the scene
Displays a list of modifiers linked to a material
Adds an ability to filter Favorite folders
Adds the default Corona material library to the treeview
Adds the default V-Ray material library to the treeview
Adds an ability to merge models to the active layer (Look for this feature in Preferences, Miscellaneous tab)
Adds an ability to specify the texture class to be used with HDRI (Look for this feature in Preferences, Miscellaneous tab)
Adds an ability to move Favorites to top level
Adds an ability to store/restore the size of Favorites panel
Fixes an issue with Auto install feature in Project Manager version 3 (silent mode installation)
Fixes an issue with rendering of previews for scenes with xRef objects
Fixes an issue with resizing images [Convert Images tool]
Fixes an issue with F8 hotkey for assigning materials
Fixes an issue with deleting files from Catalogs that display files from subdirectories
Fixes a bug with Advanced File Renamer tool
Fixes an issue with displaying the exclude merging list in 3ds Max 2021
Fixes an issue in 3ds Max 2021 with displaying the list of object classes excluded from merging
Fixes an issue with setting up a default renderer in the Render Preferences dialog box
Fixes an issue with renaming scene materials
Fixes a bug with opening the Render Thumbnail Preferences dialog in 3ds Max 2018 and older versions
Fixes an issue arising when monitor screen DPI uses a scale of more than 100%
Fixes some interface issues
Adds an ability to colorize Favorites
Adds an ability to display sub-folders in Favorites
Adds an ability to display assets from multiple selected Favorites
Adds an ability to sort Favorites alphabetically
Adds an ability to optimize database from the Preferences dialog
Speeds-up adding files to Favorites using drag&drop
Adds support to Corona 6
Opens the "Mass Rename" tool using F2 hotkey when multiply assets are selected
Fixes an issue with upgrading large databases to 3rd version
Fixes some issues with lighting and camera views in some cases when rendering previews for 3d models
Fixes an issue with dragging materials/textures to multi/sub-object materials in 3ds Max 2021
Fixes a bug with auto-updating
Some optimizations & speed improvements
Update History for all versions.
| | | |
| --- | --- | --- |
| Models | Materials | |
| Textures | IES | Asset Files |
---
Quick Start Frequently Asked Questions
Main Features
Easy to organize and use 3ds Max Models, Materials, Textures and IES Photometric Lights.
Merge Models, Materials, Bitmaps and IES using Drag& Drop.
Store/Create Proxy with materials.
Interactive rendering previews for Materials, IES Photometric, BVH Motion capture, FBX, OBJ, 3DS and other such 3d files.
Show native previews for 3ds Max files, ArchVision RPC, GrowFx, Revit, Substance, BIP motion, SketchUp, Revit, HDRI & etc.
Create PBR (Physically Based Rendering) materials
Support to Substance textures
Search files by tags and file-names.
Power Asset Tracking Management.
Support to most used renderers like V-Ray, Corona, Octane, Mental Ray, Maxwell & etc.
Project Manager's Features in Infographic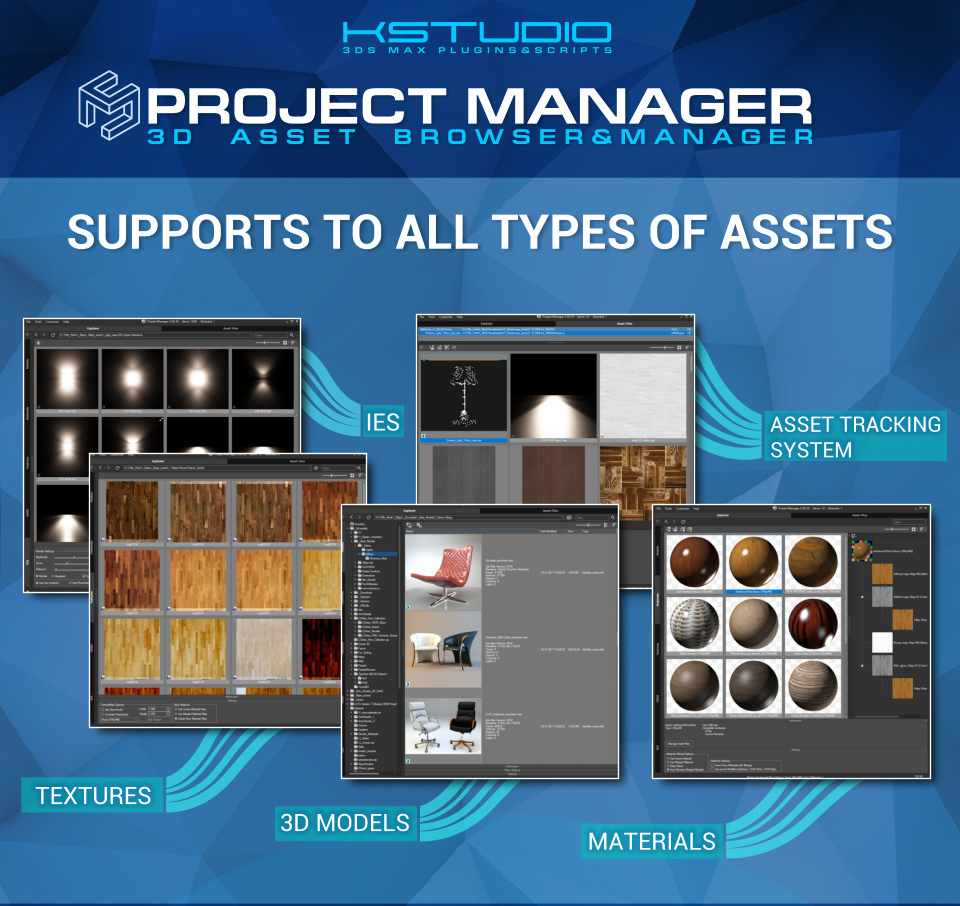 Version Requirement:
3ds Max 2014 and above