Corona Quick Setup (free)
Another free script for you! Although Corona is a fairly simple renderer, its settings panel (3dsMax's default Render Setup dialog) is still quite complicated and slow. There are many settings that normal users will rarely touch, and even never use at all.
So this script is written to simplify the settings panel, bring out the most commonly used parameters, helping ordinary users to set up their scenes faster.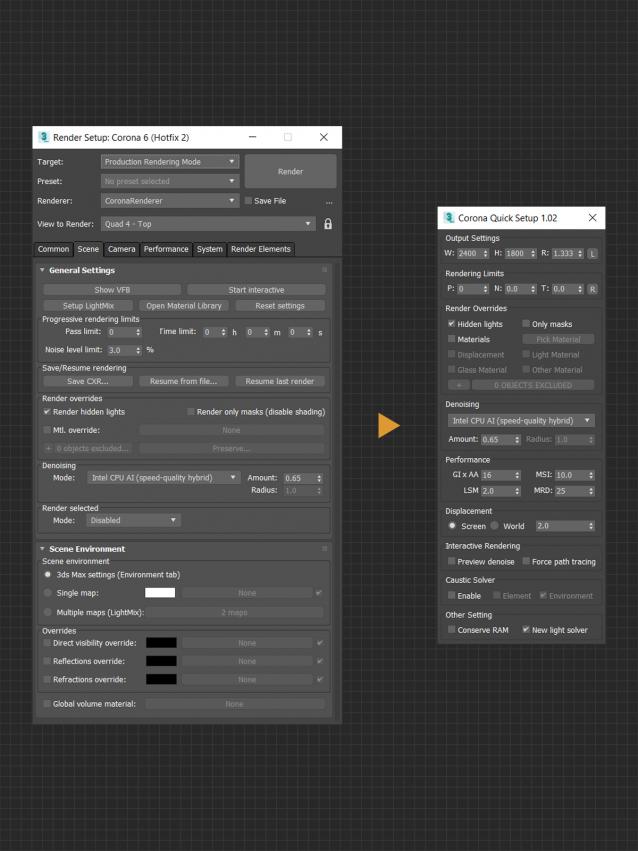 1.04 | 17/09/2021
Preserve options (Displacement, Light, Glass, Other Materials) will be placed in a separate floater ("-" button).
The lock aspect ratio state will be saved when the script is closed.
Note: this script is written and tested on Corona Renderer 6, 3dsMax 2019, and above.
Some features may not be available in older versions.
Also, I know that there are some similar scripts that have even been around for a long time, with the same concept but with different types of interfaces (for example Corona Renderer Tweaker by Stanislav But, I have been using it for a while and actually love it), but those scripts still don't really fit into my workflow, so I wrote this script. Hope you will like it.