FumeFX Gi Maker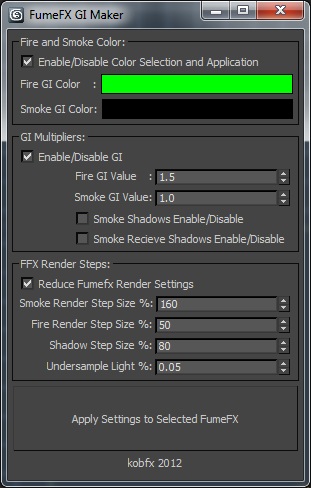 Hi,
This script will Prepare FumeFX containers for creating GI masks to be used later in Comp. Also has controls to optimize the render settings of your shader and shadow creation.
Things this script does:
Sets fire and smoke color to be a flat color of your selection.
Sets the Strength of Gi multiplier in your grid.
Turns shadows on and off.
Makes the selected container Invisible to camera (so you can just get a GI mask).
Changes the Render Steps and Shadow steps size, to optimize renders times.
Changes the light undersample.
All of this can work across multiple selected containers at once.
Its not the cleanest script but it works well enough :)
Additional Info:
NOTE: This works with Fumefx Version 2.1 and above.
Let me know if there's any errors and ill get onto it as soon as i can :)
Cheers Kieran
Version Requirement:
3dsmax 2010, Fumfx 2.1 and above