Lazy Clay Render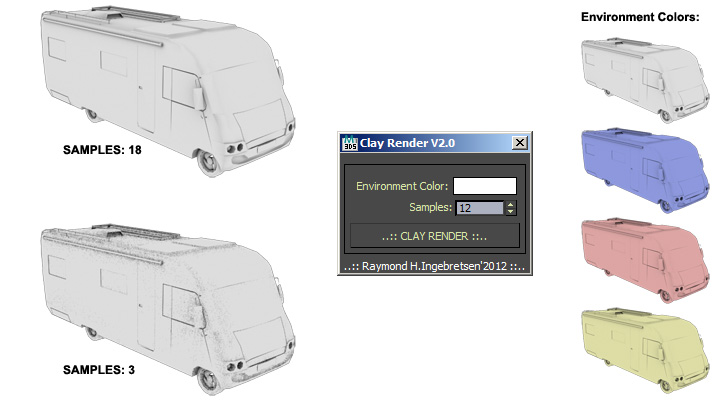 Additional Info:
[DESCRIPTION
Lazy Clay Render V2.0 - Scripted Clay Render that keeps everything intact after rendering.
[INFO]
- Put the files in maxroot\scripts\ (e.g.: C:\3dsmax2012\Scripts\)
- Tested with 3DS Max 2012
[CREATION INFO]
Date Created : March 11, 2012
Last Modified: March 15, 2012
Author: Raymond Homme Ingebretsen
Webpage: http://www.homme3d.com
[NOTE]
Use and modify at you own risk.
[SPECIAL THANKS TO]
Anubis for always helping me out <<---->> Webpage: http://project3d.narod.ru
Haavard for always helping me out <<---->> Webpage: http://folk.ntnu.no/havardsc/site/wordpress/
Hardrock_ram for always beeing helpful <<---->> Webpage: http://www.3dhue.com/album_personal.php?user_id=490
Tronotrond for big help and suport <<---->> Webpage: http://hille3d.no/
[HISTORY]
V1.0: First version. Render Clay + Sample spinner Settings
V2.0: Added Environment Color Suport + implemented part of Hardrock_ram & Haavard's sugestions (Big thanks!) ;o)