LMassign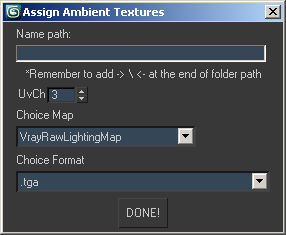 this script assign lightmaps to every selected objects.
you must insert lightmap path, and you can choose uv channel e texture formats.
to assign a shortcut: "customize user interface" -> "mainUI" -> "compariello"
* in this case, the script works with vray lightmap suffix (max 2008 & 2009). if you want to use with other ambient texture suffix, write a comment!!
** just you must have materialID equal to number of multimaterial list.
Version Requirement:
any (i suppose)