Material Editing Tools
This Macro Script is to help artists get rid of redundant scene materials,search for objects,keep Material Editor clean and also allow artists to easily select hooked material based on selected object,and vice versa.
Additional Info: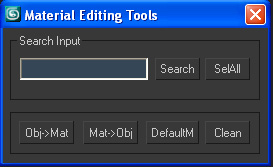 The macroScript will be called Matools.
To use the script, you can go to Customize... and drag the script from the category "Pipeline Tools" to a toolbar, a menu, a quad menu or assign to a keyboard shortcut.
Usage:
Search: Seach for object with input name
SetAll: Select all objects in Scene
OBj->Mat: Update,show and select which material in Material Editor is assigned to selected objects
Mat->Obj: Select objects with current selected material in Material Editor slot
DefaultM: Remove material away from selected objects
Clean: Reset 24 material slots with Default Material in Material Editor