OBJ - Proxy Tools
A simple tool for changing VrayProxy display modes as well as hiding/freezing proxies etc.
Extract .zip to your root max folder and run either:
OBJ-PrxTools.ms - Opens the script for a single use.
OBJ-PrxTools.mcr - Installs the script.
Can be found under UI category: OBJ
Read the tooltips, they explain everything...
Additional Info: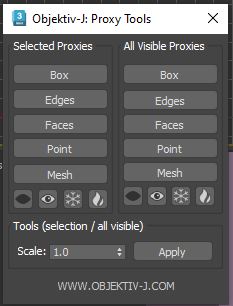 Version Requirement:
2021
Other Software Required:
Vray