3D R.n.D | MaxScript | road offsetter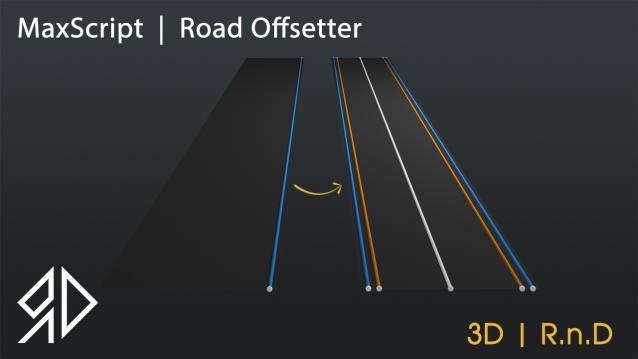 This Script will Automatically create main road lanes based on selected spline
Run script or drag and drop to 3ds max, a dialog is created with some input parameters:
- number of lanes.
- Lane width.
- Yellow lanes distance.
- Enable Yellow lanes ?
- Flip direction ?
select 1 spline (( as subobject level )) modify the inputs as you need then press (( Offset it ! )) button !
the splines created has material id applied to them as follows :
Edge splines with ID = 1
Normal white separators with ID = 2
Yellow splines with ID = 3
Version : 1.05
Subscribe to my YouTube channel:
https://www.youtube.com/channel/UCp13ZiWcwCCV2RjcXsD6ZGA
follow me on instagram :
https://www.instagram.com/3d_r.n.d/
This software is provided on an "as is" basis, without warranty of any kind, express or implied, including without limitation, any implied warranties of merchantability, The entire risk as to the quality and performance of the software is borne by you, and it is your responsibility to ensure that it does what you require it to do prior to using it, The author is not responsible for any indirect, special, incidental, or consequential damages of any character including, without limitation, damages for loss of goodwill, Work stoppage, computer failure or malfunction, or any and all other commercial damages or losses.
Copyright : © 2009-2021 3D | R.n.D, All rights reserved
Author : Bayan Al Safadi