aerender
aerender is a script which sends AE job from 3dsmax.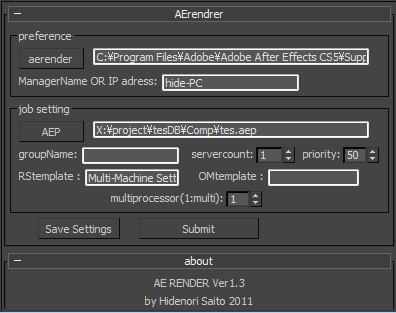 Installation
Download installation file
UNZIP " 3dsmaxROOT to root folder of 3ds max " Start 3ds max
Go to Customize>Customize User Interface>Toolbars> Category "HideScripts">Action "aerender"
Drop Toolbar
Before a rendering
It is necessary to put in AE along which the same path as all the machines passed.
I put all the footages into the share drive along which the same path currently shared by all the machines passes, or the UNC path needs to pass along them.
It is necessary to make the output place of AE project the UNC path of a shared folder.
How to use:
aerender
place of aerender.exe.
aep
place of an ae project file.
groupname
name of the rendering group of backburner (in blank when there is nothing).
servercount
number of the machine
priority
importance of a job ( the maximum= 0)
submit
transmit a job.
A jobname turns into ae_project name. When carrying out the submitt of the scene name of the same name, I am named automatically
Version Requirement:
3dsmax2008+
Other Software Required:
AfterEffectsCS3+