Chain creation Tool
This script allows an easy distribution of an object along a path and adds a Wire-Parameter between the objects. it allows you to controll the whole animation on the path with the master object.
You can also change the wire-color and randomize the parameters of rotation and scale.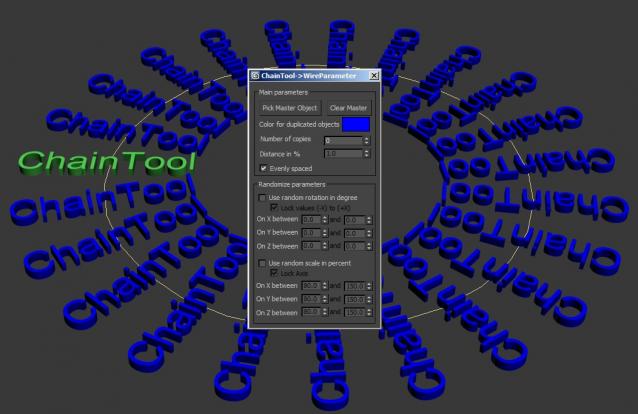 Additional Info:
Execute the script and select an object that has been already constrained to a path.
In the "Motion pannel" (beside the "Modify pannel"), you can check "Follow" and/or "Bank" if needed.
It uses the "Wire Parameters" between duplicated objects, so the master object controlls the animation of the others.
Script tested on 3ds max 2012. (May work on other version)
-------------------------------------------------------------------------
If you have a 3ds Max version prior the version 2011, you can download
the file "chaintool_v1.4_prior_version_2011.mse"
Otherwise, for the versions 2011 and 2012, it's recommanded to use "chaintool_v1.4.mse"
-------------------------------------------------------------------------
Changed in v1.1 :
-Refresh the screen correctly
Changed in v1.2 :
-Critical Bug with the spinner button corrected
Changed in v1.3 :
-Added "Pick Master Object" button
-Allow to create multiple chains
-Allow to choose a different wire-color for the duplicated objects
Changed in v1.4 :
-Corrected an error appearing when the controller "Position List" is missing
-Added "Randomize parameters" for rotation and scale
Version Requirement:
2011, 2012