Connect Spline Vertices
To overcome an issue of a spline Create Line method which would more often than not want to weld the vertices and/or not work at all I have first written a short function, and later on, having been asked to support multiple vertices, expanded it to this little script.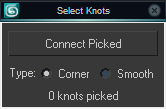 Installation: Download the .mcr file and either drop it in viewport or run it once. In Customize dialog you will then find the script in category Advanced.
Additional Info:
The script is intended to be bound to a shortcut or used in a quadmenu. When exactly two vertices are selected, it will connect them, otherwise an UI will pop up asking you to pick vertices one by one and hit the button when you are done. When using the UI you also have a chance to pick either corner or smooth knot types. After the new spline is created, its vertices are selected, so you can for example change them all to bezier or move the whole lot somewhere else.
Version Requirement:
3ds Max 9, VIZ 2008
Other Software Required:
for Max 9/VIZ 2008 AVGuard extension is needed