Create Reference planes from a .psd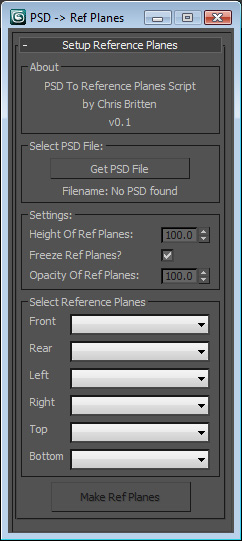 - My first script, so all crits are very welcome!
- Run this script to create up to six reference planes (front, back, top, bottom, left, right) from a layered .psd file.
- To use:
1. Run script in max
2. Select .psd file (note this only works with photoshop files)
3. Select the height (in current file units) that you want for the reference 'box' - all other dimensions will be determined from the image aspect ratio.
4. Select whether you want the ref planes to be frozen (if frozen, the 'show frozen in grey' setting will be turned off for the planes)
5. Select the opacity of the planes (100 = fully visible, 0 = fully transparent)
6. Select the desired psd layer to use for each plane. A plane will only be created for each view if a layer is selected.
7. Click 'Make Ref Planes'
A new layer, called 'Reference' will be created (unless it already exists), and each plane is given a unique name.
- All comments and crits are very welcome!
Version Requirement:
3ds Max 8 +