Easy RenderSwitcher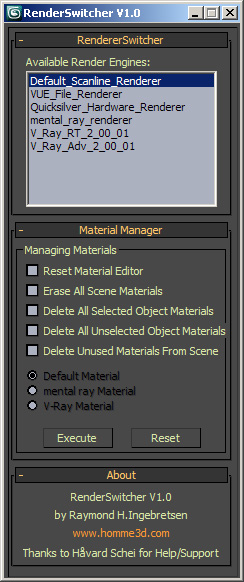 Additional Info: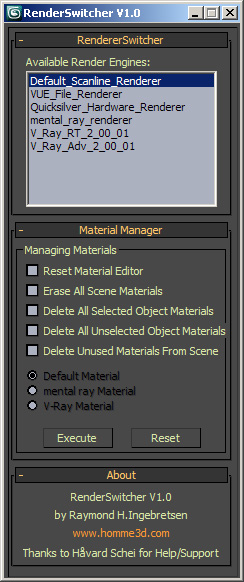 [DESCRIPTION]
Easy Render Switcher V1.0 – Helps you Quickly to switch render engine and clean up the scene.
Set Renderengine, Reset Material Editor to Default Scanline, Mr or Vray, Erase Scene Materials, Delete materials by Selected/Unselected Materials and Clean Up/Delete Unused Materials from scene.
[INFO]
– Put the files in maxroot\scripts\ (e.g.: C:\3dsmax2009\Scripts\)
– Works with Max 2009 -> 2011 (Not tested in any versions below, but should work)
[CREATION INFO]
Author: Raymond Homme Ingebretsen
Last Modified: Jan 22, 2011
Big thanks to Håvard Schei for Help/Suport (alias haavards)
[HISTORY]
Jan 22, 2011: First Version of script
[NOTE]
Use At You Own Risk.
Version Requirement:
2009, 2010, 2011