GradientView
Custom viewport backgrounds just the way you want them.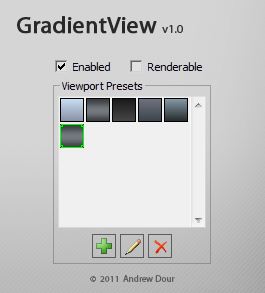 • Create your own custom gradients; no images needed.
• Loads automatically at startup and with each new file.
• Great for office/studio workflows: Doesn't save the BG image to the file, so you won't get missing asset warnings.
• Comes with presets for Mudbox, Zbrush, Modo, and Maya
GradientView allows users to create custom gradients for their viewport backdrop without messing with handmade background images. Users can create and edit as many presets as they want without creating extra images on your hard drive.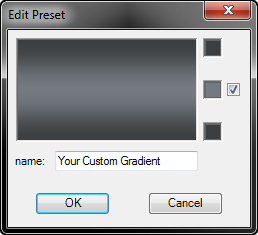 GradientView (if enabled) will load automatically with each new session of 3dsMax as well as each new scene even existing scenes. The background image is never saved with the file; so when you hand off your scenes to others it will never complain about missing assets. Enjoy!
Additional Info:
• 3ds Max 2010 and up
• Download & unzip to MAXROOT\scripts\startup\ **MUST INSTALL HERE**
• In Max: Customize > Customize UI > Toolbars (under "TheDOUR" category) > drag to a toolbar to create a button
• Please note that GradientView will not preserve background images already applied to a scene if it is enabled.

New in version 1.0.1:
• fixed "isOn" error that occurs on some peoples' machines when saving files.
Version Requirement:
3ds Max 2010 (or higher)
Other Software Required:
.Net Framework 2.0 (or higher)