GTVFX-ANM_createAnimStillsCam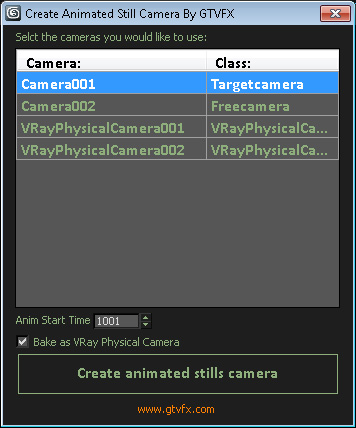 Creates a single camera that is baked frame by frame to each camera that is selected in the list.
Useful for creating production stills and sending a single camera off to be rendered.
Updates:
2014-02-07: Support for baking to VRay Physical Cameras.
Some issues I saw while putting this together:
- When baking out VRay Cameras I store all the settings from the original camera and bake them for that frame. Some settings in the camera are clearly not animatable, however. Specificly On/Off options such as, Exposure, Blades, Depth-of-Field, Motion-blur. These settings cannot be set to change from one frame to the next. So if you set up a series of VRay Cameras and some are set to use Depth-of-Field and some aren't, then you're going to get a baked camera that is going to be set one way or the other, but will not support both.
Additional Info:
To install just drag the download .MZP file into the 3dsmax interface. You should get an Install dialog.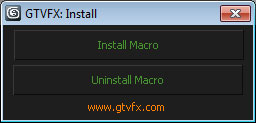 This tool will install a macroscript that can be accessed from the Customize User Interface dialog within 3dsmax.