Importer toolbox
This script is a toolbox.
A collection of tools, intended mainly to help you manipulating scenes imported from other 3d softwares, such as Rhino, Sketchup, etc. The Condensers attach objects by its material or layer and rename the resulting object as its material/layer. You can also optimize the resulting geometry. The other tools do pretty much what you expect, according to its name and options. I hope this tool is as useful to you as for me. If large number of objects is selected it may look frozen, but he will do the job. Just give him a second (or two) :)
v1.01 - Fixed issue in Condense by Layer when processing the last created layer.
Enjoy! and please report bugs if any ;)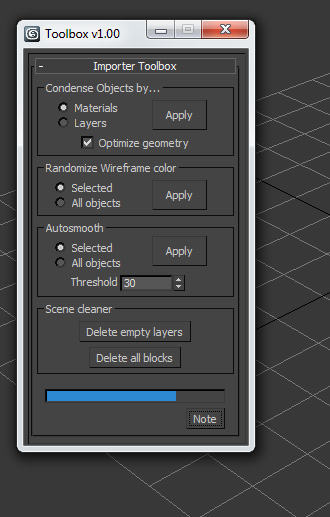 Additional Info:
Installation: Go to "MaxScript" menu and select "Run script". Select the file and click "Open". Then go to "Customize" menu, and select "Customize user interface". In the new window, select tab "Toolbars", in "Category" select "Tools". There you will find "Importer toolbox". Now you can drag and drop it in the toolbar. Save changes before closing the "Customize User interface" window. Enjoy :)
Version Requirement:
Max 2012-2014