knottyLine
"knotty Line" is a auxiliary mini tool for spline modeling.
It's draws a line with the set number of vertex.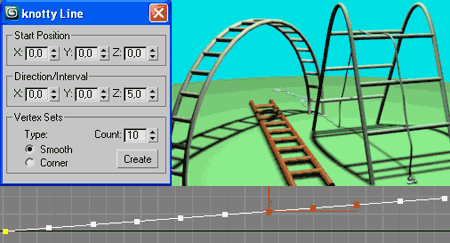 Additional Info:
Actually I was looking for a spline tool for making rope
for my personal simulations with Reactor,
but nowhere can find something similar, so I make my own.
Of course, anyone can use my script for many other tasks.
I'll not try to describe everything that could be done with this mini tool,
not directly, of course, but as an auxiliary method in spline modeling process.
This is a matter of imagination... but to acquire some idea,
I wrote a short example "How to make a ladder" in my blog.
Quick example "How to make a ladder" with "knotty Line":
http://3dmyths.blogspot.com/2009/03/knotty-line-v03.html
Version Requirement:
3ds Max 8/9/2008/2009