Logo Tools - Convert Bitmaps to Maxscript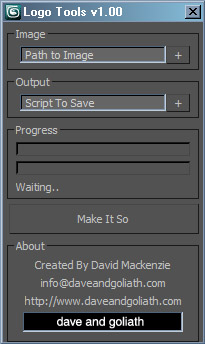 Logo Tools converts bitmaps into a max script arrays which can easily be used in your own scripts. It is very handy if you want to add small logos or custom icons to your tool, I would normally include the converted images in a install script that would create the images and write them out for later use. It makes packaging up your own scripts for distribution very easy and tidy.
LogoTools is very easy to use just follow the steps below:
Pick an image file that you would like to convert. Do this by clicking the "+" button.
Now pick the file to output again by clicking the "+" button. This file will contain the array representing the bitmap and a code required to convert the array back to a bitmap.
You can now hit the "Make It So" button to get the ball rolling. The progress bars will continue to update until complete.
You can now open the outputted script file which will have the array and a function to create the bitmap already in it.
Give it a try and let me know what you think. If you have any suggestions on how to improve the script please let me know!
Cheers,
Dave