MeshDeform
This scripted plug-in allows to deform an object based on the contours of a mesh object. It is inspired (so not an exact copy) of the original plug-ins "surfDeform" and "patchDeform", which don't work with mesh objects.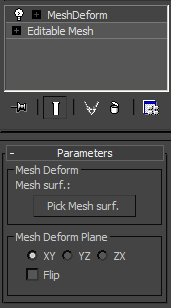 Additional Info:
Launch the script, then you will find it in the modifier tab under the name "MeshDeform".
The "Pick mesh surf." button is compatible with mesh type objects. Although the editable_poly objects are compatible, the editable_mesh objects will give better and faster results. (So I don't recommend the use of editable_poly object).
If the deformation doesn't apply, then you probably need to flip the normals of your picked "Mesh surface".
When applying the "Flip" option, it flips the projected verts like a mirror relative to the pivot but it also flips the normals, so you just have to add a "normal" modifier on the top to correct it if you need.
updated v1.1:
-support animation.
If you hide the object, the modifier will still be evaluated, so just disable it before hiding.
Version Requirement:
2010, 2011, 2012, 2013