Object soft selection
***********************************Object Soft Selection*************************************
Script is used to transform objects with soft selection based on user defined curves.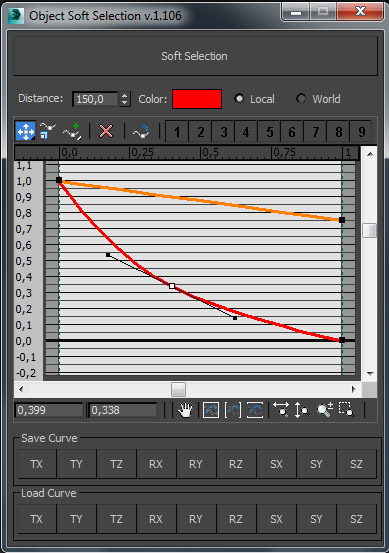 Additional Info:
How to use.
1.Hide objects that not been proceed.
2. Change curves shape as you need. Load predefined shapes(if you were done them before).
Change color for affected objects.
3. Select center object and press Soft Selection button.
4. Change distance to desired.
Local\World Mode - Important for rotation and scale.
Local object will rotate around their axis.
World object will rotate around CENTER axis.
Uncheck numbers 1(TX) 2(TY) 3(TZ) 4(RX) 5(RY) 6(RZ) 7(SX) 8(SY) 9(SZ) in graphic window to edit only desired curve.
IMPORTANT: DO NOT CHANGE CURVES SHAPES WHILE SOFT SELECTION BUTTON PRESSED.
The good way is to uncheck the button, edit the shape and return to soft selection mode.