Polygon Tools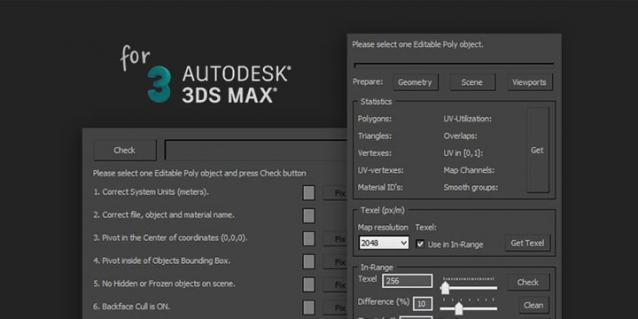 Polygon Tools are scripts pack for checking 3D-model during modeling and UV-mapping process in 3ds max.
Target audience: enthusiasts, beginning 3D-modelers, outsource managers, Art QA, art-managers and etc.
Polygon Tools was created to facilitate common problems search in 3D-models and speed up the work by reducing the amount of routine work.
Short Features List:
Semi-automatic check list
Semi-automatic fix common problems
Extended models statistics
Get Texel Density of your models
Get Texel distortion in specified range
Get polygons and UV-shells with problems
Set different checker textures to geometry
Check LODs in viewport
Check geometry with not enouh intersection
User Manuals: http://tools.polygon.by/en/docs
Additional Info:
New UI
Work with many objects
More detailed Log
Two languages (en, ru)
Сonclusion on committed actions
Version Requirement:
2014 and more