Preview Render Force Values
Hi,
I have written a simple script which allows you to create a standard force (wind,gravity,drag,vortex),in which it is linked to viewport indicators of key paremeters happening within the force.
This enables you when making a preview render, to compare different paremeters across each render. Just select helper enabled in the render preview window.
It also places the indicators in a layer of its own so you can turn them off and on.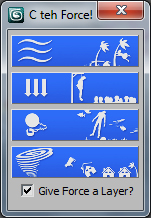 Big Thanks to Thomas Sinclair for the buttons!(www.thomassinclair.carbonmade.com)...shamless plug! ;)
Pretty Simple but could be useful for when tweaking seems like a lost cause!
Cheers Kieran.
Additional Info:
Run script.
Go to Customize UI >> Locate "kobScripts" >> "kobfxseetheforce"
Version Requirement:
3ds Max 9 +