Rapid Resize Modifier

Scripted Modifier that extends the Xform Modifer. Allows you to non-desctructively scale objects to precise real world dimensions. Works on both single and multiple objects.
Version 1.4: Fixed a major bug related to opening scenes that have the modifier in use where a script error would occur. Pivot offsets are now stored and loaded with the scene. Thanks to Yue Fan for reporting the bug.

Version 1.3: Now correctly reports dimensions for mirrored and negatively scaled objects. Although I personally recommend resetting XForms for mirrored objects as a general best practice.
Version 1.2: Fixes pivot presets and dimensions for rotated objects. Thanks to titane357 for reporting the issue.
Features:
Works on single objects as well as multiple objects and groups.
Adjust pivot anchor to 27 possible locations around bounding box without changing object(s) original pivot
Fine tune anchor point using spinners
Additional Info:
Usage:
When applied to a single object, scaling is performed using object's LOCAL bounding box.
When applied to multiple objects, scaling is performed using objects' WORLD bounding box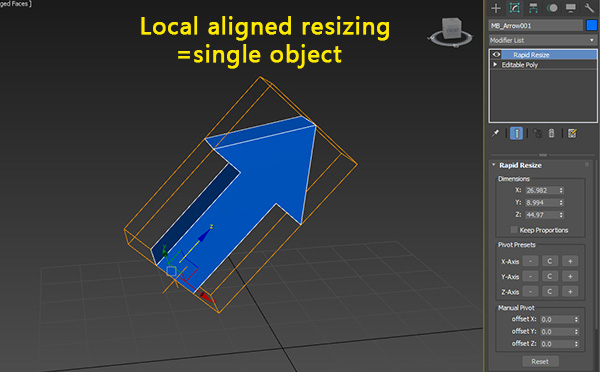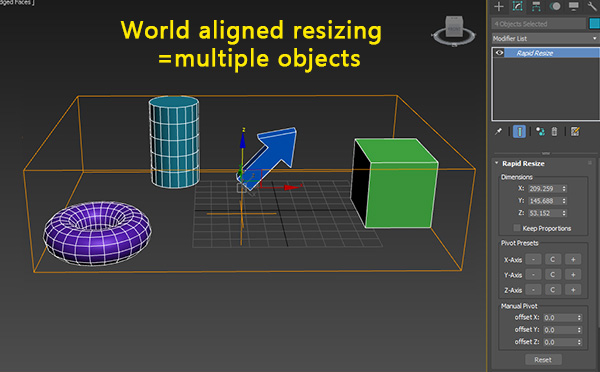 Based on zsResize by Jan Köhl, with extended functionality to work on multiple objects, and the ability to set anchor points.
Installation: Place in your plugins folder and restart 3ds max. It will then be available in your modifer list as "Rapid Resize"
Version Requirement:
3ds max 2010+