Reindeer

Reindeer 2018 Released!
The friendly node based Render Manager and Scene Automator for 3dsMax just got an update.
Easily create multiple versions of your renders using the all new Selector workflow. Perfect for product configurators and much more. Reindeer 2018 introduces new nodes, more script templates, Redshift support, VRay VFB support, more callback options, and more. With Reindeer it's all just one push of a button. Keep it simple or build advanced setups, it's your choice. Reindeer let's you automate the boring stuff so you can focus on what matters, Animation, Shading and Lighting.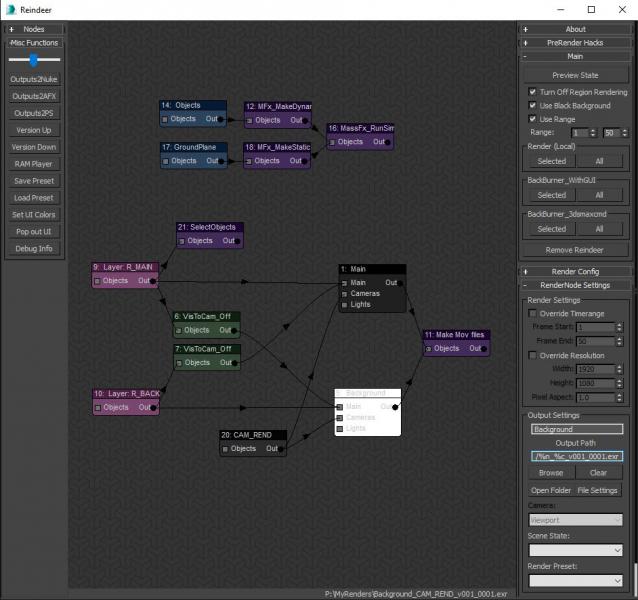 Use a friendly node interface to easily manage multiple render outputs with multiple cameras. Use nodes to include objects in renders, change properties and materials.
Reindeer doesn't care about what renderer you use, but special nodes for Vray and Redshift properties are provided for convenience.
Submitting renders should be as easy as a single button regardless if it's locally, to your renderfarm or to an online renderfarm. So Reindeer can be configured to submit renders to BackBurner, Deadline, RebusFarm and RenderBuzz. Use provided submit scripts or make your own to suit your studios needs. Oh and btw nothing needs to be installed on your render nodes.
Easily open your renders in Nuke, AfterEffects or Photoshop, no need to browse for files if you don't want to.
No more browsing and naming your render outputs, just setup a rule using symbols once and let it be automated forever.
Not just for Rendering!
You can use Reindeer for so much more. Use it to run simulations, easily assign materials, set properties, select or hide objects based on rules, store and run scene specific code snippets, make previews, export objects... It can be simple, complicated, brute force or procedural, the point is you choose! And with scriptnodes virtually anything is possible.
Make up brand new workflows and save them as presets.
Check out these videos:
Rendering with Reindeer
Create a setup
Reindeer to other apps
There's a place for Reindeer in every toolbox, it's a timesaver. Go get it!
Version Requirement:
3dsMax 2014 and up