Smart Camera View 2
A major upgrade from Smart Camera View 1 (formerly known as D95 Camera View), with many important additional features. This script is intended to replace the default Camera View (C) in 3dsMax with some cool functions. It will save you a lot of time when setting camera, especially in scenes that has multiple cameras with different aspect ratios.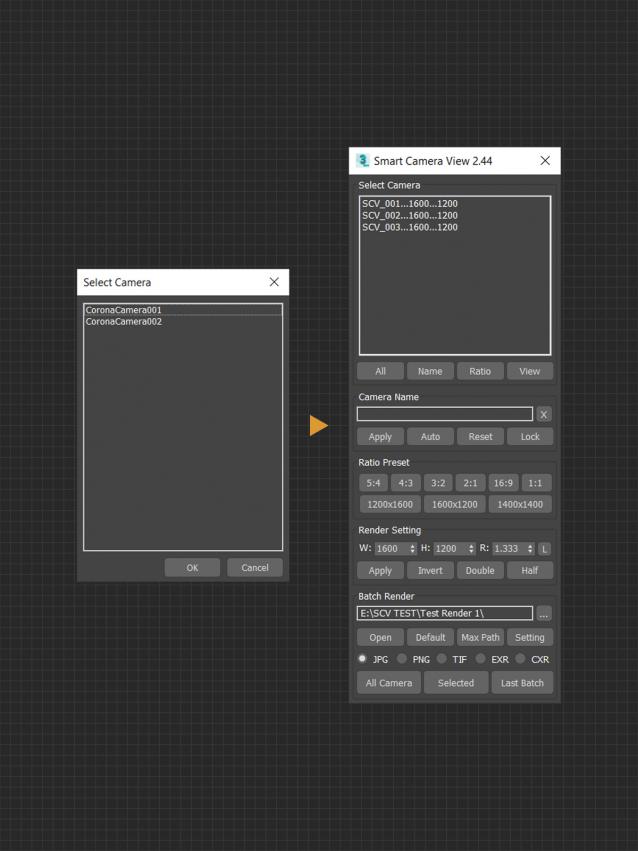 HOW TO INSTALL
Drag and drop MZP file into viewport (no need to remove previous versions)
You can find Smart Camera View 2 button in Customize User Interface > Toolbar > D95 DESIGN.
SET SHORTCUT
From menu: Customize > Customize User Interface > Keyboard
Find category: D95 DESIGN > Tooltips: Smart Camera View 2 (recomend "C" button).
KEY FEATURES
Set output resolution & ratio aspect for each camera.
Quick change viewport & ratio aspect to the selected camera.
Quick select camera in viewport through camera list.
Auto-filter camera when select multi object.
Select camera with same prefix name or ratio.
Batch rename multi camera with increase number surfix.
Auto rename camera by 3dsmax filename.
Quick set ratio & render output resolution for each camera.
Quick set output folder & output type when batch render.
One-click render all camera in scene.
Render selected camera in camera list or viewport.
Render last selected camera / batch render.
CHANGELOG (LASTED VERSION)
2.44 | 20/09/2021
Add new "Setting" button.
New "Lock Viewport" function (big thank to Олег Кайгородов for the suggestion)
Now you can customize the name of "Output" folder.
The set default path feature ("Set DF button) will be placed in the settings.
"Use DF" button is changed to the old name "Default"
2.42 | 13/09/2021
FIX & IMPROVEMENT:
Replace "Clear" button with "X" button next to camera name editable text field.
Replace "Folder" button with "…" button next to render output folder path editable text field.
"Default" button is split into 2 button "Set DF" (set default) and "Use DF" (use default).
Switch group for render resolution preset button, reduce number of presets from 6 to 3.
Re-polished the interface: more clean, more function.
ADD:
New function "Lock": lock / unlock tranform of selected camera (move, scale, rotate).
MANUAL
Most of the button in the script already has tooltips, but you can take a look to get an overview of how the script works.
Note: this manual is for version 2.39, other versions (higher or lower) may have some differences.
CAMERA LIST
Left Click: select camera in viewport.
Double Click: select camera & camera target.
Right Click: select and change viewport + aspect to the selected camera.
Ctrl + Right Click: add Camera Correction modifier.
Shift + Right Click: select camera target.
SELECT CAMERA
"All" button: select all cameras in scene, right-click to select only cameras that are not hidden
"Name" button: select all cameras with same prefix name (select a camera first).
"Ratio" button: select all camera with same ratio aspect (select a camera first).
"View" button: select the camera node associated with the active view
RENAME CAMERA
"Apply" button: apply new name for selected with number suffix.
"Auto" button: auto renames all cameras with max's filename as prefix.
"Clear" button: quick clear camera name in the editable text field if you want to enter a new name.
"Reset" button: erase all script data in camera name. Note: this action cannot be undone.
RATIO PRESET
"x:y" button: change ratio aspect of selected cameras to x:y, right-click to invert ratio.
For "1:1" button, right-click will set "gold" ratio to selected cameras (approximately equal to 1.618)
RENDER SETTING:
"W" & "H" & "R" editable text field: change width, height & aspect of selected camera.
"Lock Width" & "Lock Height" & "Lock Ratio": lock selected value.
"Double" & "Half" button: double (halve) selected cameras resolution.
BATCH RENDER:
"Output Location" text field: show where will the renders be saved.
"Folder" button: choose output folder for render image.
"Default" button: set "C:\Smart Camera View\" as output folder.
"Desktop" button: set desktop as output folder.
"Open" button: open render output folder.
"JPG", "PNG", "TIF", "EXR", "CXR" radio button: choose type of render image.
"All Camera" button: quick setup render of all cameras in the scene.
"Selected" button: quick setup render of selected cameras.
"Last Batch" button: render the last batch.
SCREENSHOT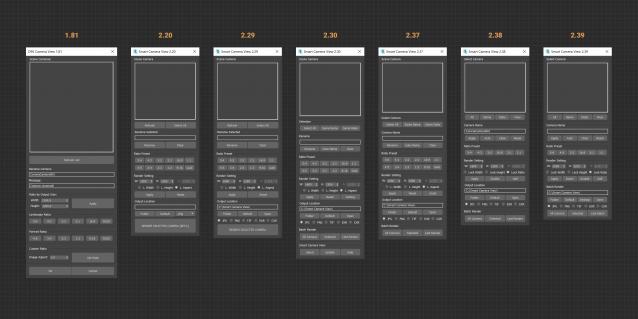 Version Requirement:
3dsMax 2014 or higher