Speed Circular Array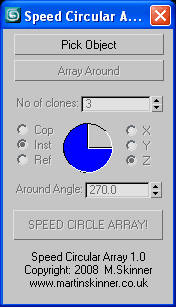 Speed Circular Array v1.0.ms
Speed Circular Array allows the user
to quickly array objects, such as chairs,
around others, such as tables.
Really it does the picking of object
transform centres for you, and then the
rotational array you would have done
by hand is automated.
Additional Info:
Installation
Each Maxscript comes zipped, along with
.txt file manual, and any .jpgs required.
To install the script;-
1) Download the file (follow the link).
2) Unzip the file and copy the content to
   your Scripts folder for 3dsMax (version 8
   or higher).
That's it, you're good to go!
Version Requirement:
Version 8 or higher