Spline Poly Bind
Creates an empty vertex-only object that you can deform with polybrushes (or any other editable-poly-friendly tool), and the splines will follow the deformation: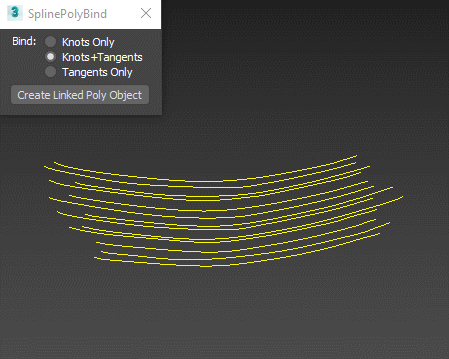 Additional Info:
Usage: Run the script and with the dialog open, select the splines you want to deform. They should be editable splines or deformable lines, the more points the more granular control over them (you can use the Normalize Spline modifier to add more points to your splines. After running the script, a new vertex-only poly object is created and activated.
You can use all the usual tools for moving its verts, like the Shift Move brush, Shift Rotate Brush, Shift Scale brush, Conform brush or even classic Soft Selection. Just don't remove or add new points.
If you want to ignore/mask specific parts of splines to edit, enter the vertex subobject level of the PolyBind object, select the verts you want to ignore and use the Hide Selected button inside Edit Geometry.

Installation: The .ms file can be run from any location (Maxscript -> Run Script...). If you want to put it in toolbar, menu or quadmenu, you can create a macroscript using Macroscript Creator.