Spliner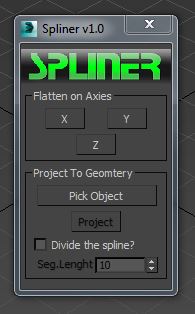 Spliner is a tool for flatten splins on one axis and conform the spline on mesh.
The script is working on a copy of the selected shape so you can always tweak
your base shape and run the script.
Spliner works only on shaps with no modifiers on top(stability reason).
The script is base on a script made by Klaas Nienhuis – www.klaasnienhuis.nl
Other Software Required:
3ds max