suffixTxt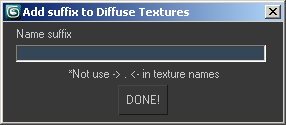 this script adds suffix to diffuse and ambient filename textures.
(at this moment it add diffuse and ambient suffix at same time. early i update it)
usually i use it to add "_low" or "high" suffix...
to assign a shortcut: "customize user interface" -> "mainUI" -> "compariello"
* this script works with filename textures with just one dot. either it give you rollout error!
** it do not function with NOTUNIQUE material / textures !!!!
*** just you must have materialID equal to number of multimaterial list.
Version Requirement:
any (i suppose)