t2.AnimatorSuite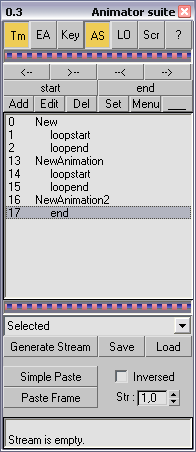 Full toolset for game animator. Time range controlling , copy / paste animation, edit key params from tool ui, custom scripts that able to execute over each frame, custom objects linking and folding ui. Read help file for more information.
Additional Info:
Copy t2.mcr to 3dsmax\ui\MacroScripts\
Copy all other files to 3dsmax\scripts\t2\AnimatorSuite\
run max or run t2.mcr form MaxScript->Run Script ...
Now, in Customize Interface you can find AnimatorSuite item, assign key, button or menu...
Version Requirement:
3ds max 9.0