tPCacher
TPCacher script makes it easier for cache and Deadline submission.
This script allow to correct, and manage the thinkingPaticles cache Submission locally or sending it to deadline and more...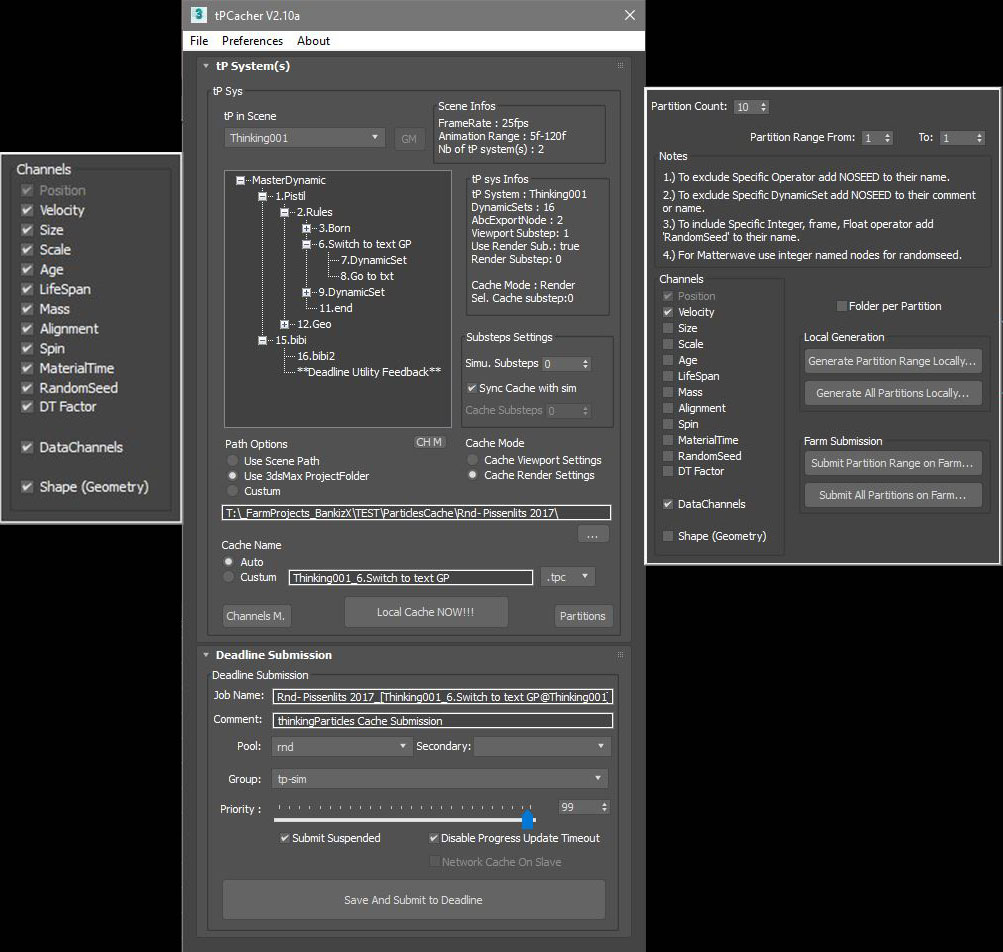 Additional Info:
Run the .mcr, then go to custumise/toolbar/THINKINGPARTICLE TOOL. to find it.
Slave nodes have to be able to check the tPserver licence to use it (ipclamp), ask cebas for more informations about licencing network-sim slaves.
The script work also with the free mode of Deadline... Deadline Module is optional, but deadline Luncher must running for it working.
Updates:
V2.10C:
--Sometime Array Code call for MasterDynamic failed, changed to explicit call
--Sometime SMTDPaths give some troubles, changed variable to Global.
V2.10B:--minimal tP requirement : tp 6.3
--Lot of fixs
--lot of code clean up
--New Modules (Datachannel Memo, Channel Manager, tPPartitionner now part of tPCacher)
--add donation button
--New routines for Old Cache detection
--Add tP Loader Script to help user.
--and a bit more.
V2.02a Little update before the big one...
--This fixe many issue when using TD tool. Update avalaible Inside the same archive for tP5 to 6.2 (tPCacher for tP5) and tP6.3
V2.01a
--Treeview instead of DisplayTree for the tP Dynamic Tree.
--New Loop iterations for DynamicTree scan
--Somre Script clean up and variables clean up
V2.00a Fresh New Release
-- supported tP6.3 and higher
--Add a version supporting tP5 to 6.2 (should work, but not tested, this one will never be updated)
--Both can be installed on the same machine
More coming...
Other Software Required:
tested with tP6.4.90 and Dealine 8.0.x