Voxel Animater
This script takes an image sequence, creates selected primitive type for each pixel, adjusts its length according to the pixels value, and animates it.
Image Sequence
Created Voxel animation by Voxel Animater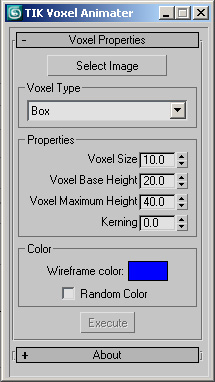 you can define:
Voxel Shape (Box, Chamfer Box, Capsule, Spindle)
Voxel Size
Base Height
Maximum Height
Voxel Color (solid or random for each pixel)
Space between each Voxel
ATTENTION!
Try to avoid using relatively high resolutions (for a 2.2 GHZ 2 GB ram machine
200 x 200 is a high-resolution :))
Trying to use high resolution images may take too much processing time, can cause halt, error and freezes.
Use at your own risk.
Additional Info:
Its a Macroscript. Drag and Drop or run the script.
Then assign into a menu, hotkey or quad menu through customize =>
customize user interface => Under the Category: Tik Works
Version Requirement:
9 or later