AEI ToolBar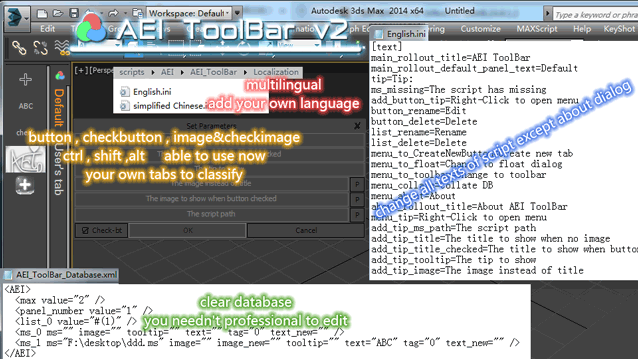 Notice:
Some errors has feedback , and now 3 notices to read , them will be fixed next release .
1、as windows10 some systeminfo value are changed , the mzp will throw out error , if you want to install with the mzp , please change .mzp to .zip , and open "AEI_ToolBar_installer.ms" with any text editer , find and delete string at 5 and 6 line , that's "if findString (sysinfo.getLanguage() as string) "chinese" > 0 then
version = 1" ,and then saved , change back .zip to .mzp , and drop in max to install .
2、don't use "Collate DB" , there are something wrong , I will rewrite the function .
3、if you use windows10 , the buttons may disappear until you move mouse on them , it is right on windows7 , I will find the windows10's API to fix .
The script used to load other script like default toolbar ,but it's more convenient to use , you needn't convert your icon to 24x24 and create a channel image , and you will click to do your work with script has some function that need ctrl or alt keyboard .
Additional Info:
Update:
v2.0.0 : a new script not like v1 , you can change the language to your own , just change the language file , and you can change button size and font etc . Now , you can add tabs to classify scripts , and you can add check button for two states script .
v1.0.1 alpha: repair the bug that when start-up/new/reset or other operation change the viewport , then button changed to unclickable , thanks to "蓬荜生徽" .
Patch:
v1.0.1 patch 1: the .net controls will disable redraw when docked , then if you open a new file or other operations ,the buttons will disappear , the patch can fix it . Run the patch after the ToolBar , you may create a .ms file , text the string :
filein "c:\\AEI_ToolBar.en v1.0.1 α.mse"
filein "c:\\AEI_ToolBar_patch_1.mse"
you may change the path to your own file path , and run the file instead the ToolBar file , the newer version is in design , it's temporary .
Usage:
If v1: Storage "AEI_ToolBar.en v1.0.1 α.mse" and "AEI_ToolBar_patch_1.mse" anywhere , create a .ms file , text strings mentioned above , put the .ms file in Startup path .
If v2: drop the .mzp in Max , and click install button .
The system didn't accept my site't domain , so I put it here , you may copy it to your browser .
http://www.aei.pub
Version Requirement:
Tested on 2013 and higher