Arch Primitive
Want to make Arches in Max for games? Here's a new fast primitive for making arches for BSP games (this can export as world geometry in the Source Engine).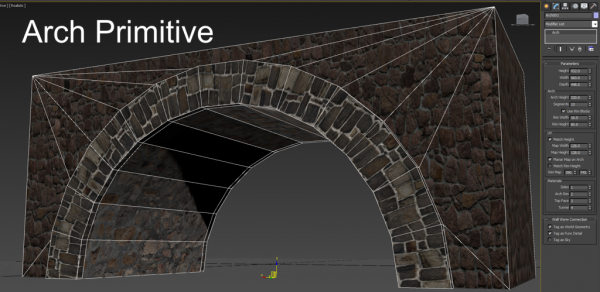 Additional Info:
Version 1.4:
Added new parameter for Base Height. This allows creating the arch at heights above the base (tall arches).
Added new Vertex Selection functions: Select Arch Inner Vertices and Select Arch Outer Vertices.
Set different smoothing groups to different parts to the arch to smooth appropriate faces in game engine.
Version 1.31:
Fixed a potential error with setting face selection.
Updated tunnel UVS so that the inside UVS flow seamlessly and flow up to the outside rim.
Version 1.3:
Added Stack Selection Rollout.
Added option to Hide Internal Faces on mesh.
Fixed some settings that could cause a block to be missing.
Version 1.2:
Fixed inverted Normals when using the Turn option.
Added new material ID setting for hidden faces.
Added new button to pick a material from another object.
Version 1.1:
Added new setting to make the bridge elements optional.
Added option to turn the direction of the tunnel (swapping X/Y).
Added button labeled "s" to Swap the Width/Depth values and toggle the Turn setting.
Added a Rotate Top UV checkbox to rotate the top faces UV by 90 degrees.
Added button to generate a multimaterial for the Arch.
Fixed bug where one of the faces above the arch rim had an incorrect material ID if the arch segments was an even value.
Version Requirement:
Probably any... developed in 2015