AvizStudio Tools - ATiles
ATiles is scripted 3ds Max plug-in for creating roof tiles, tiled floors, brick walls, fences, and more.

Additional Info:
Pro version of the script (commercial) includes all the futures of the free version plus:
Create ATiles object with one click from roof plane, geometry or spline.
Cache mesh for speed. Store inside ATiles object generated geometry for viewport and render.
Re-create mode. Rebuild objects without loosing material or connection to other objects.
More advanced tools - Volume, Path(beta) and Surface(beta) tools.
Random transformations of the tiles - Rotate, Move and Scale.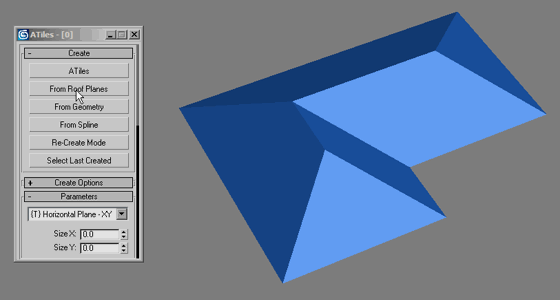 New in version 2.63:
Free 15 Day Trial for the Pro version
Fixed 3D snapping when creating new object
Fixed UI alignment in some of the newest versions of 3ds Max
Fixed other small bugs
New in version 2.62:
Bug fix for "unable to convert: undefined to type: String" error in About roll-out of ATiles object.

New in version 2.61:
Fix UI alignment when using high DPI display or Windows scaling bigger then 100%
New in version 2.60:
Resizable multi-column ATiles Toolbox
Auto load preset on startup option
Auto load presets list on startup option
Lock Element and Offset scale checkbox
Lock Local XYZ scale checkbox
Other small bug fixes
New in version 2.52:
Always create a region – option
Other small bug fixes
New in version 2.51:
New Region & Volume mapping option
Other small bug fixes
New in version 2.50:
New Presets system
Included 100 new presets in 10 categories
Region and Volume optimization
Random Material optimizations
Transforms and material variations on sub-object level
Other small bug fixes and optimizations
New in version 2.02:
Fixes small bugs.
Speed optimizations.
New in version 2.01:
Select Similar function - select similar ATiles objects based on their parameters.
Create Roof/Geometry object based on smoothing group (ATiles Pro only).
Create Roof/Geometry object based on face normal (ATiles Pro only).
New in version 2.0:
Create options to set tilt and cut angles from points in the viewport.
Option to fit tiles count to given size for X, Y or Z.
Option to control base and top cut angles.
Option to redefine custom tile. Unlimited custom tiles.
Option to select main, first and viewport tile.
Options to align tiles - move, rotate and mirror.
Option to improve weld Accuracy for small object when a region is selected.
Option to align region to tilt angle.
Option to set material ID variation.
New in version 1.4:
Set internal scale of the sub elements for X, Y and Z.
Auto optimization of sub elements when creating new object.
New video - How to cover with ATiles complex roof .
New in version 1.3:
Option to replace first element or first row of elements with the element stored in "Custom2".
New video - Haw to create custom roof tiles with version 1.30.
New in version 1.2:
Offset R - Offset every even row.
Reset button - Reset parameters to default values.
New download page with more information about the script.
New in version 1.1:
Offset Z - offset elements in Z-axis
Absolute offset for X,Y and Z - Define exact distance between elements. You can turn it on or off with one click of a button.
Installation:
Download and unzip the desired version.
Use included ATiles_Setup.exe to install the script.
Restart 3ds Max
Version Requirement:
3ds Max 7 or later