Biped Resizer
Script for quick resizing Character rigging with Biped and Skin.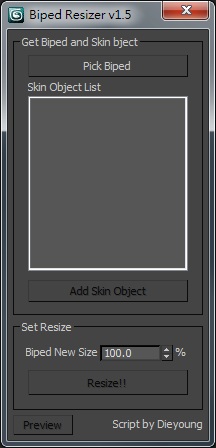 Just drag and drop in your viewport.
Additional Info:
Here are some tips to use:
Pick Biped:
Pick the Biped of the Character which you want to resize.
If correct , the button text should looks like "bip001","bip03"...etc.
Add Skin Object:
Select all objects of the Character and press "Add Skin Object".
The "Skin Object List" will read only the Object that with Skin modifier or linked to the Biped.
Biped New Size:
Notice that the new size is base on the present Character size.
Preview:
You can get a real-time preview while you're changing the value of "Biped New Size"
Resize:
Left click : Resize Biped.
Right click : Reverse To Original Height.
P.S. After resized , the Biped will be switched to Figure Mode
Version Requirement:
3ds Max 2008 - 2013