Bouncy Bones for max 2009-2010-2011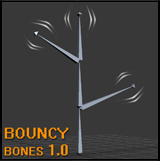 Bouncy Bones 1.0 by Jonah Shafer
The script is compatible with max 2009, max 2010, and max 2011. I have not tested with 2012, but the 2011 version might work for that as well. If someone can confirm this for me that would be great! The files are available for download on my website in the sharing section.
- Please give me credit if you use this script for any commercial purposes, this took a long time for me to get it to this point.
- If you do something cool with this script, let me know and send me an email.
Bouncy Bones 1.0 is a toolkit script I put together to make the creation of dynamic bones or objects with secondary motion faster. Once you apply the script to bones or objects, you can affect all of the bouncy bones in your scene with global parameters. There is also a default wind force applied automatically which adds random motion to the dynamic bones which can be globally adjusted or turned off if needed.
Additional Info:
File download is located on my sharing page. *Update - I've changed my homepage in a recent update and at the moment it no longer has a link to my sharing page, but you can still get access to the file. Find the link to access my old website in the first description paragraph on my new homepage, and from there you should be able to get to the sharing page.