Change Render Engines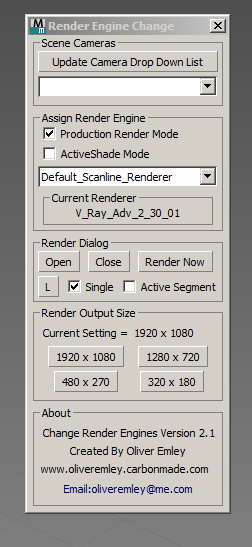 Change Render Engines V2.1
The script allows you to do the following:
- Select any cameras that are in the scene and automatically switch to that view
- Update the camera list at the touch of a button
- Assign Production or ActiveShade rendering mode
- Assign a Render Engine to the Render mode that you are in
- Shows what the Active Render Engine is
- Allows you to open & Close the Render Dialog
- Allows you to Render the Active View
- Select Single Frame Mode or Active Time Segment
- Get the last rendered Frame
- Choose from a selction of Preset HD Render sizes
Additional Info:
This is the first script i have ever written so would appreciate any feedback.
If you have any question, think anything should be added then please get in touch.
Thanks.
Oli
Version Requirement:
3dsMax 2010 - 2013 , 3dsMaxDesign 2010 - 2013