CoronaCam Overscan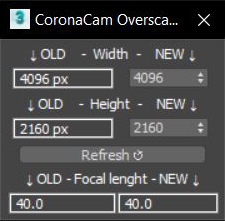 Script Description :
This script is made to overscan a Corona Camera.
The script allow you to overscan your render in width and height.
By modifing this parameters it will change automatically the focal lenght (or FOV) of your camera.
Key features :
The overscan is automatic, you just need be sure to select a CoronaCam before changing the width or height value and also to be sure to close the render setup windows before. (For security the scriupt will close the windows by itself)
Usage :
You need CoronaRenderer Installed !!
• Select a CoronaCam
• And play with the width and height parameter
• Done !
if you switch camera be sure to click on refresh before use it again !!
Install :
- Drag and Drop into your viewport
- Open Custumize -> Custumize User Interface...
- Open Toolbar Tab
- Find into "# Scripts" category
- Drag and Drop the script into your interface
- DONE !!
Updates :
v1.00 - Initial launch (MaxScript)
Additional Info:
Script tried on 3dsmax 2018 and 2021 and Corona 3 - 6
Contact me at [email protected] to do feedbacks, will be great for the community !!
Version Requirement:
3dsmax 2018 / 2021
Other Software Required:
CoronaRenderer 3 - 6