Dashed lines generator - traffic dashed lines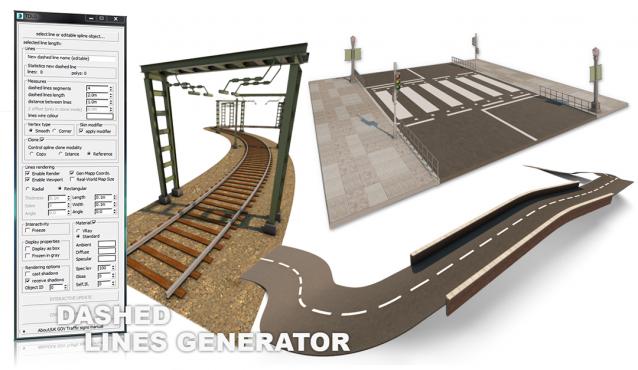 Additional Info:
Dashed lines generator is a tool to automate, in few and easy steps, the creation process for each kind of dashed line: it can be used to simulate the traffic signs standards; with the SKIN MODIFIER option it's extremely easily to manipulate the dashed lines created, changing their placement and orientation. By this script the user can have an interactive creation process of the dashed line, with a real time preview into the 3DS Max viewports. Features included:
Interactive update: visualize the dashed lines during the interactive creation process
Apply skin modifier: automatically apply the SKIN MODIFIER to the dashed lines created and modify the curves after that the geometry has been generated
Vertex type: to generate dashed lines with "smooth" or "corner" vertexes
Clone options: to clone the reference spline in" copy", "instance" or"reference" mode
Lines rendering: to interactively change the section and the thickness of the dashed lines during the interactive creation process
Material: automatically apply VRay or Standard Materials
Rendering options: interactive set up for the "cast shadows", "receive shadows" or "object ID" properties
Display properties: to change in real time the "freeze", "display as box" and "frozen in gray parameters"
UK Gov signs manual: a direct link to the pdf file "UK Traffic Signs Manual chapter 5".
Version Requirement:
2010/2011/2012/2013/2014/2015/2016