Delete Modifier Utility
This small utility allows to delete any modifier in a selection. First, it captures the modifiers in the selection. The group of selected objects can be of different types (geometry, shape...). Then select which modifier you want to delete and click on "delete".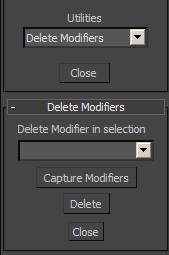 Additional Info:
Execute the script then go to the "Utilities" panel,
"MAXScript", "Utilities", "Delete Modifiers".
Version Requirement:
2010, 2011, 2012