Export FBX to Unreal
Designed specifically for Unreal workflow, this script provides a quick way to export scene data with minimal interaction with scene objects.
The script will quickly export static meshes and their existing collisions, skeletal meshes or skeletal animations using the FBX format.
See online guide in links section.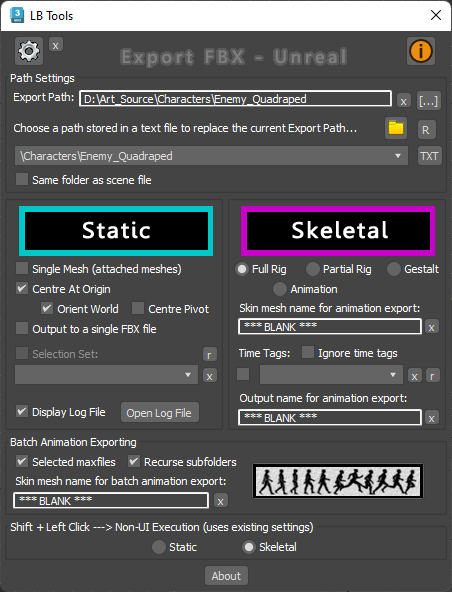 Latest Updates:
Version 2.4;
- Changed PDF guide button to link to an online guide.
- Added default option for FBX export with version 2020 to settings UI.
- Added support for static mesh capsule collision volumes (UCP prefix).
Additional Info:
The script can be found in category "LB Tools".
Installation:
Drag the MZP file into your Max viewport.
Files will be copied to...
C:\Users\<userName>\AppData\Local\Autodesk\3dsMax\<maxVersion>\ENU\scripts\startup
C:\Users\<userName>\AppData\Local\Autodesk\3dsMax\<maxVersion>\ENU\scripts
C:\Users\<userName>\AppData\Local\Autodesk\3dsMax\<maxVersion>\ENU\usericons
Version Requirement:
3dsmax 2019-2023