Fit the UVW Mapping Gizmo
Perform Fit gizmo operation on UVW mapping modifier on all selected objects.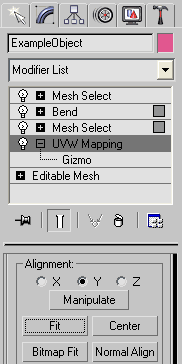 Features:
Written as macro script
Optimized measurements
Allows UVWmap on any level in the mod-stack
Perform Fit operation on all selected objects
Thanks to Borislav "Bobo" Petrov for the nice tutorial:
http://www.scriptspot.com/bobo/mxs9/uvwgizmofit/index.html
Additional Info:
QUERIES AT ALL ARE WELCOME OF COURSE BUT
PLEASE READ THIS CAREFULLY BEFORE ASK WHATEVER!
When you add/apply NEW UVWmap modifier it AUTO Fit
(so you NO need any script to re-fit your UVWmaps gizmo)
AFTER changing settings of EXISTENT UVWmap modifier
ONLY THEN you need to Re-Fit it gizmo
(and this is the PURPOSE OF THIS SCRIPT)!
The script take care of the CURRENT UVWmap settings
and AUTOMATIZE the Fit operation on multiple UVWmaps.
Also IMPORTANT!
Adding/applying Any modifier at ONCE to multiple objects
produce One INSTANCE modifier for All objects,
AND as you guess (or not), this is NOT the same AS
applying UNIQUE modifier to EACH object.
Just to append for clarification, there is NO
any modifier in 3ds Max that support MULTIPLE GIZMO'S (!)
So NOT expect an instance UVWmap modifier to do miracles.
IF we could somehow fit "personally" multiple gizmo's
ONLY using ONE instance UVWmap modifier
THEN we do not ever need to wrote any script.
Well, this is an essential, common knowledge of Max.
If you have any common usage questions about UVWmaps
then just ask in the forum instead.
Thanks

Version Requirement:
3ds max 2008 and higher (or need [AVG] Avguard Extensions for previous)