GTVFX-ANM_maxVRayCameraConverter
Converts Standard Max cameras into VRay Physical cameras or the other way around.
When converting to Vray camera there is the option to use either FOV for Focal-Length.
Updates:
2014-02-09:
Updated UI. Fixed a bug when converting the focal length of VRay camers to FOV for standard cams the built-in function within Max was marginally off causing a mis-match between the origianl camera and the converted camera.
2014-04-20:
Some UI updates
Additional Info:
To install just drag the download .MZP file into the 3dsmax interface. You should get an Install dialog.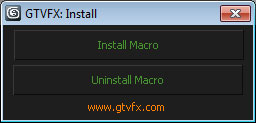 This tool will install a macroscript that can be accessed from the Customize User Interface dialog within 3dsmax.