Massive Property Manager (MassManager)
MassManager :
With MassManager you can manage massively the 3dsMax and Vray properties. Some properties are often added to make this tool better.
Mass Manager est un outil dont la fonction principale est de gérer les propriétés de 3dsMax et de Vray en masse. Des propriétés sont ajoutées régulièrement pour rendre l'outil plus complet.
Spécifications
L'outil est développé pour 3ds Max® 2014 et Vray 3x mais est compatible avec 3dsmax 2011 x86 (pour l'avoir testé), mais le language utilisé ne comporte pas de fonctions majeur de la version récente de 3dsmax, il y a donc de forte chance qu'il soit compatible avec d'ancienne version de 3ds Max® par exemple 9 (mais à vérifier).
L'outil se divise en 3 sections:
L'origine de la sélection
Les filtres à appliquer à cette sélection
l'action à appliquer à la sélection
Sélectionnez des objet dans la scène, filtrez ce que vous voulez affecter
Il filtrera les propriétés possible selon le filtre en place.
Choisissez une propriété à modifier.
Définissez la valeur et cliquez sur Go!
Là où il pourra modifier la valeur il le fera.
Requis
3ds Max® 2011 et ultérieur
Mise en place
Pour intégrer l'outil MassManager dans votre 3ds Max® vous avez juste besoin de suivre ces étapes :
téléchargez le fichier dkd-massmanager.mcr fourni ci-dessous
ouvrez 3ds Max®
glissez le fichier dkd-massmanager.mcr dans votre 3ds Max® ouvert
un message apparait vous expliquant la procédure à suivre, cliqué sur OK après l'avoir lu
pour créer un bouton pour cette outil, ouvrez Customize / Customize User interface...
allez dans l'onglet Toolbars
si vous voulez créer une barre pour placer votre nouvelle outil, créez en une
pour créer une barre cliquez a droite sur New... et nommez votre nouvelle barre
pour aller chercher votre nouvel outil, dans Group, choisissez Main UI si ce n'est pas déjà le cas
et dans Category, choisissez dkd
Vous devriez voir apparaitre Mass Property Managerdans les fenêtre des actions
cliquez et glissez cette action dans votre barre
3ds Max® créé automatiquement un bouton nommé Mass Manager
Voilà votre bouton est pret, vous pouvez quitter le Customize User Interface
Features
This tool is built in 3ds Max® 2014 with Vray 3x but also compatible with 3dsmax 2011 x86 (I tested it), but this script language doesn't use major functions from recent 3dsmax release, so; I guess there is big chance that this tool is compatible with older 3ds Max® release.
There is 3 parts in the UI:
selection from
selection filters
actions
Select objets, put some filters on what you want to affect. It affect only possible properties depending on selected filters.
Choose the actyion type, by exemple "Change Value".
Define which property you want change and put the value and clic on Go button!
It gonna change value where it can.
Requirements
How to install
To install the MassManager tool you just need to follow these steps :
download the dkd-massmanager.mcr file below
open 3ds Max®
drag the dkd-massmanager.mcr file in the viewport of your opened 3ds Max®
A message appear that explain the next step to follow, clic on OK after read it
to create a button for this tool, open Customize / Customize User interface...
go to Toolbars tab
If you want, you can create a toolbar for this new tool
to create a toolbar, clic on New button at the right side... and name it as you want
to find your new MassManager tool, go to Group, choose Main UI if itsn't
in Category, choose dkd
it must have Mass Property Manager in your action Window
Drag and drop this action in your toolbar
3ds Max® créé automatiquement un bouton nommé Mass Manager
Voilà your button is ready, you can close the Customize User Interface window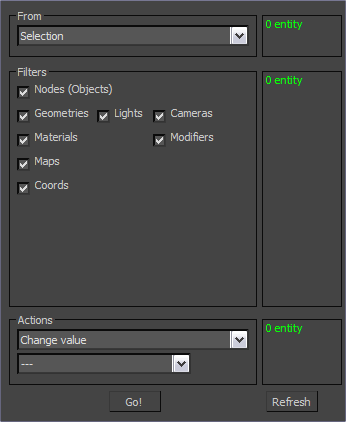 Additional Info:
Les mises à jour sont automatisées. Dès qu'une mise à jour est disponible, à chaque fois que vous cliquerez sur l'outil il vous proposera de le mettre à jour. Vu le jeune age de cet outil, pour le moment je vous conseil de mettre à jour votre outil à chaque demande, je mettrais plus tard un systeme de gestion des versions que vous pourrez gérer vous même quand le script sera plus mature.
Updates are automatics. When there is an available update, when you clic on the tool, it suggest you to download the new release. This tool is very young, I suggest you for now to update your tool at each new release. Later, I ll put a system that allow you to manage by yourself all the version you had on your computer.
Et après ?
Dans les versions futures j'ai prévu ces quelques améliorations qui en feront un outil plus complet.
Ajout de plus propriétés
Ajout de Missing Objects
Ajout de filtre de sélection
Ajout d'actions (selection de node, création de librairie de shader...)
What next?
In futures release, I planne some nice features for this tool.
Adding more proprerties
Adding Missing Objects
Adding more selection filters
Adding actions (select nodes, create shader libraries...)
Download URL
Version Requirement:
3ds Max 2011 and newer