Modifiers Clipboard
Clipboard for modifiers.
!!! UPDATE !!!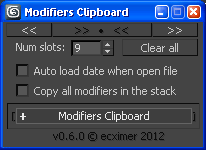 Additional Info:

At the request of his friends added some new features.


Full list of features:
1. Quickly rename modifiers.
2. Right-click on the "Copy" cleared the corresponding slot.
3. When adding new slots, the old are not cleared. <- New!
4. When you close the script clipboard is not cleared. <- New!
5. Clipboard is saved with the *. max file. When you open a script - the clipboard is restored. <- New!
6. Startup data slots when opening the file. <- New!
7. Reduced the size of the windows scripts to save space. <- New!
Notes:
1. To return to the native name of the modifier is sufficient to completely remove its current name and press ENTER. <- New!
2. As the number of slots, the data are cleaned.
3. Maximum number of slots 99 (more than enough). <- New!
Install: Copy to folder \scripts\ecximer and run, or drag'n'drop in the viewport file "ecximer-ModifiersClipboard_Start.ms". Search in category: "ecXimer".
History:


v0.4.1 - First release.
v0.5.6b - Added new features.
v0.5.7 - Added support for World-Space Modifier.
v0.6.0 - Added "Copy all modifiers in the Stack".
Version Requirement:
tested in 3ds max 2008x64 and 3ds max 2012x64