Overlapping Objects
A Script for Detecting Overlapping Objects .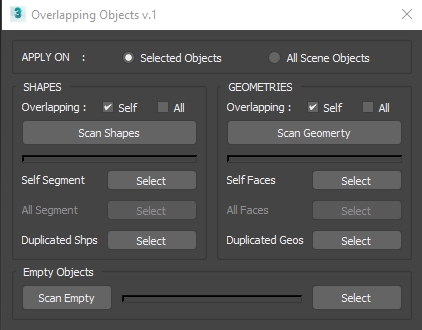 Required 3dsMax 2018+ .

Work on Geometries Faces/Polygons and Shapes Segments .

Work on Edit Poly Modifier/Edit Mesh Modifier/Editable Poly/Editable Mesh and Shapes .

[All] Checkbox will do Full Compare between the Segments of [All Scene or Selected Shapes] .

The Script is Slow , and not Highly Optimized and may through errors , so Please use it WITH CAUTION and save your work before using it (Maybe Max Freeze) .
Version Requirement:
2018+