PF Channel Info
This script will display accessible particle flow channels into a list view.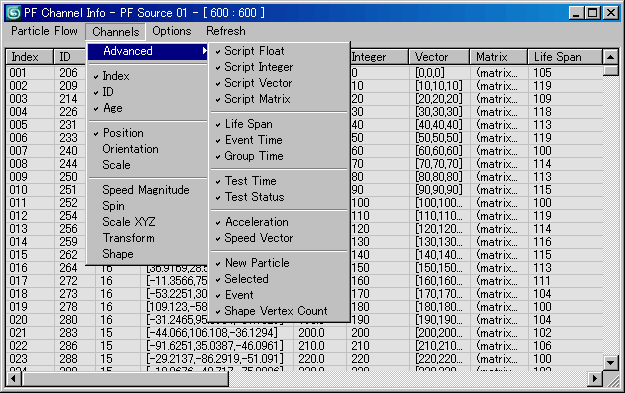 Additional Info:
Usage:
Select a PFlow Source, then from the "Particle Flow" menu, select "Get Selected".
Or from the "Particle Flow" menu, select "Get By Name".
Filters:
You can type in numbers, separated by spaces or commas, or type in a range by using a dash.
Controls:
DOUBLE-CLICK on an item in the list to print it to the Listener.
Press ESC to cancel "Filling Spread Sheet".
When displaying channels:

Press CTRL+CLICK to display/undisplpay channels by groups.

for example, if you press CTRL+CLICK to display the Position Channel,
the Orientation and Scale channels will also be displayed.

To dislay/undisplay all Standard or Advanced channels in one go, press
CTRL+SHIFT+CLICK on any channel item.
Notes:
To display most of the advanced channels properly, you must manually turn pflow OFF, then ON again.

This is because the script temporarily creates a Script Operator in the Global Event of
your PFlow to expose/access the channels.

Auto-Update can become very slow with large particle counts.

Using the INDEX filtering from the "Options" menu would help speed up Auto-Update.
Using the ID filtering won't help much with the speed though..

Auto-Update will also only update the list when the time slider is moved.
Version Requirement:
3ds Max 9