Quick Pivot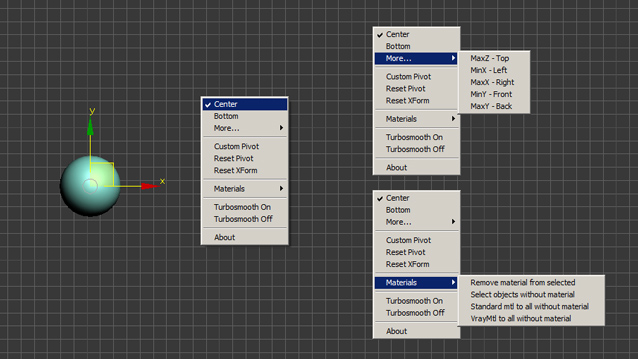 This is only my small version of quick pivot.
New: Dual Shortcut - short / long click:
1. quick press shortcut for less then 0.5 s - Quick default Pivot witout menu
2. hold shortcut - popup menu (or hold Shift + press toolbar button)
To choose default option (hold Ctrl while choosing from popup menu)
This method I developed to save shortcuts - to use one for 2 options / scripts (with short click or long)
I can publish it as a open code if anybody is iterested in. Let me know.
Same method will be used soon for Copy Paste DWG and Copy Paste Image
It works as a popup menu or without.
Just drag and drop to max window and go to customize -> category Pixamoon.
It can be installed as shortcut or toolbar icon.
To quickly deactivate Custom Pivot (Affect pivot only) I use shortcut for "Modifier stack jump" (it switch back to Modify panel):
http://www.scriptspot.com/3ds-max/scripts/shortcut-modifier-stack-jump-a...
Updates:
v1.28:
- fixed issue with dual shortcut in max 2015 and up
v1.27:
- fixed Dual Shortcut issue - how it works - check v1.25 description.
v1.25:
- Dual Shortcut option:
- press shortcut for less then 0.5 s - works as quick pivot without menu (apply checked center, bottom, deoends what is default)
- hold shortcut - shows up quick pivot menu
- to change checked default in menu - hold Ctrl and choose other pivot
- Dual Shortcut with toolbar button
- to open Quick Pivot menu -> hold Shift and press toolbar button
- to apply quick pivot without menu -> press toolbar button
- when working with custom pivot - press shortcut second time to turn it off
v1.17:
- added fer more functions:
- to work with materials on selected objects
- turn On/Off Turbosmoth on selected
v1.15:
- fixed start custom pivot mode
Hope you like it.
Let me know if you have any suggestions. What could be added to this small menu ?
Pixamoon
Few more options in menu (not related to pivot but maybe somebody needs it too):